Once upon a time I played backgammon.
It's a great game and the board is simple geometric style at it's best.
I'd been thinking about making a backgammon inspired quilt for a while now and the Quilt Story Block Party gave me the push I needed to try out my ideas and play.
Version one was a bit of a fail because my points came all the way to the edge of the block.
Do over?
Version two turned out better. This design was just something I jotted down and did rough measurements for. If I ever make more blocks I'll need to actually make a template so everything comes out more precise.
I used Kona coal and yellow/purple scraps for my "board".
It's not regulation, but I still like it!
I think I'll make a pillow from this block, dig out the ole backgammon board and see if I can still remember how to play!
I'm entering my "I'm Bringin' 'Gammon Back!" block in the Quilt Story Block Party.
Click on the link below to be inspired by all the other entries!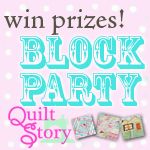 ETA: I am completely humbled to say this block was a Block Party Winner! So excited!